About Studio Ghibli
What is Studio Ghibli?
Established in 1985 by Tokuma Shoten Publishing, Studio Ghibli is an Animation Studio based in Japan and helmed by Hayao Miyazki, Isao Takahata and Toshio Suzuki. Tokuma Shoten had been serializing Miyazaki's manga version of Nausicaš of the Valley of the Wind since 1982. The following year they decided to produce a film version of Nausicaš, to be directed by Miyazaki himself. When the finished film was released in Japan in 1984, it proved such a success that Miyazaki and Tokuma decided to create a studio dedicated to the production of high quality animated feature films like Nausicaš. In this way Ghibli is unique among Japanese animation companies, most of whom depend primarily on TV series and OAVs for income.

Because they focus on large-scale feature films, Studio Ghibli make around one film a year, most of which have been directed by either Miyazaki or his colleague Isao Takahata. The Studio has won numerous awards, including an Oscarģ for Best Animated Feature for Spirited Away, and has enjoyed considerable box office success both at home (where Spirited Away proved more popular than Titanic) and abroad.
What does Ghibli mean?
Ghibli means "hot wind blowing through the Sahara Desert". The name was used for Italian scouting planes during World War II leading Miyazaki, a fan of airplanes from a young age, to name the studio after it. Although "Ghibli" is an Italian word, it is pronounced jee-blee, or ji-bu-ri in Japanese.
Miyazaki and Takahata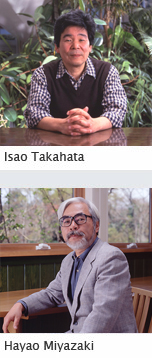 Isao Takahata (b.1935) had been an assistant director and manager at Toei Animation for four years when a young Hayao Miyazaki (b.1941) arrived straight from university. Miyazaki served on work-groups for Wolf Boy Ken (1963-1965), on which Takahata worked as director. After collaborating on Takahata's feature directorial debut Little Norse Prince (1968), they left Toei for A Production in 1971, where they stayed until 1973. That year they both moved to Zuiyo Eizo, the staff of which later established themselves independently as Nippon Animation.

After Miyazaki's directorial feature debut, Castle of Cagliostro (1979), he hired Takahata as producer on Nausicaš (1984). The movie's success allowed them to set up Studio Ghibli to make Castle in the Sky (1986), followed by two films on a double bill: Takahata's Grave of the Fireflies (1988) and Miyazaki's My Neighbour Totoro (1988).